Digital Enterprise and Security 2022
Digital Enterprise and Security 2022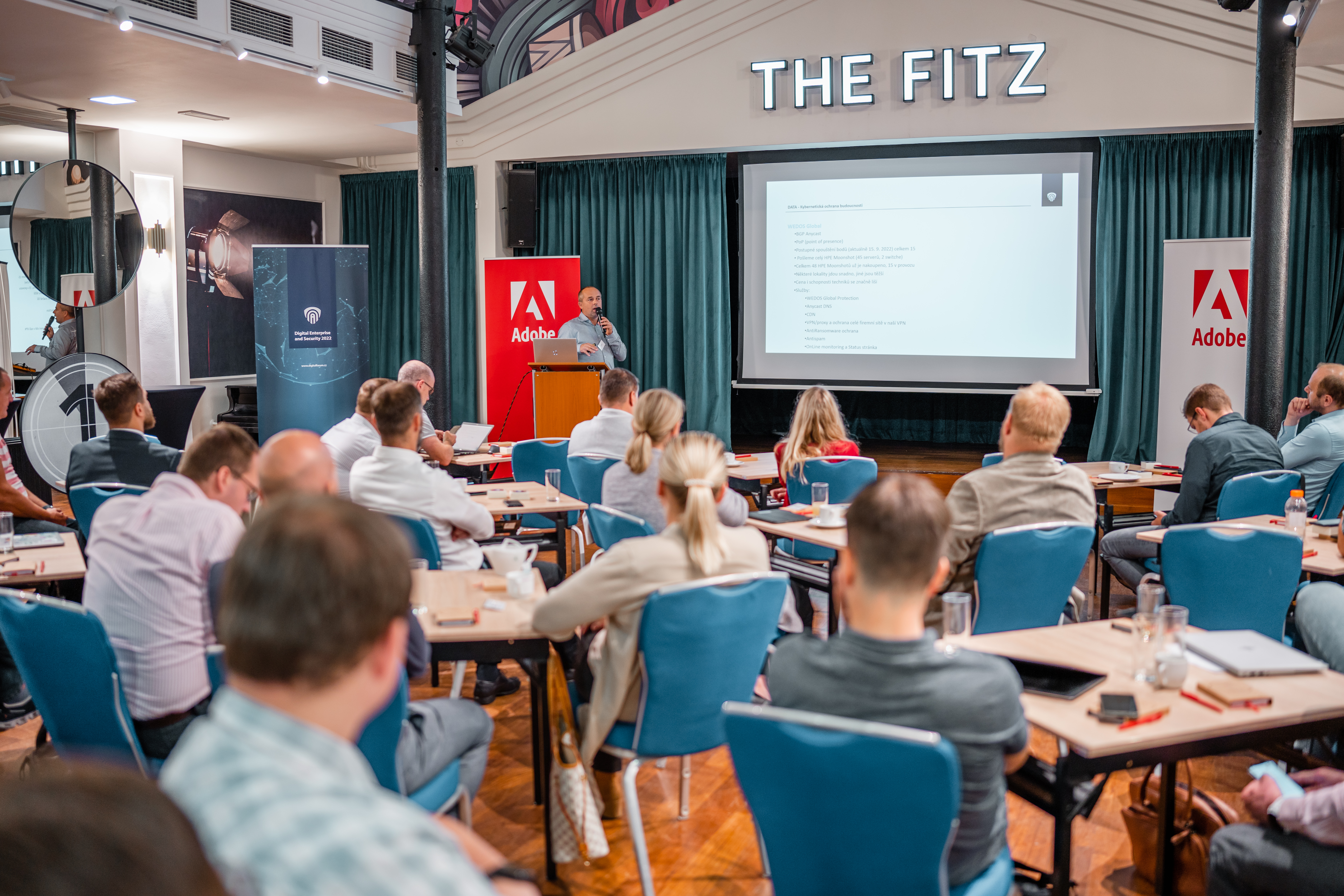 06.10.2022
The increasingly frequent cyber attacks do no longer aim only at state-owned enterprises and public authorities, but it is also companies in commericial sphere facing them on a daily basis. One of the few positive consequences of the COVID-19 pandemic has been the acceleration of the digitization of business processes and the need for remote working and communication. There is no doubt this led to an overall increased efficiency in businesses. But, in addition to increased efficiency, digitalization also brings with it security risks that cannot be underestimated.
Safe digitalization along with protection of not only company's data, but also people, was the main topic of the event "Digital Enterprise and Security 2022". The event took place in Prague on September 15th and there were several security areas to discuss. Starting with Identity & Access management, safe digitization of documents and digital signature and ending with protection of data centres from external attacks. Thanks to practical insights and expert opinions could participants gain important insights for deciding on the next steps needed to increase security in their companies. Whatsmore, all of that was presented in plain language so it was easily understandable not only for IT professionals, but also for representatives of business and management.
Cleverbee, the main organizer of the event, introduced the key area of IAM (Identity & Access Management) by a lecture delivered by IT consultants Lukáš Kovařík and František Linder at the beginning of the conference. Why at the beginning? A well-designed system for identity and access management is the foundation of any well-working company - essential for the protection of corporate data and the creation of a work environment.
The following presentation by Mr. Josef Grill and the founder and CEO of Wedos (the largest Czech provider of hosting services), brought to light suprising information about data security. Especially about the extent to which operators of data centres have to face cyber attacks and about the importance of dealing with them to ensure customers' security. The experiences of Wedos clearly demonstrated the neccessity of investments into systems security.

On behalf of a well-known international company Adobe, there was a presentation delivered by Mr. Tareq Fadel. As a Partner Solution Architect, Mr. Tareq focused on principles of documents security and introduced AEM Forms, a solution for digital forms creation and management, which is a part of the Adobe's complex platform AEM (Adobe Experience Manager).

Another topic discussed at Digital Security and Enterprise 2022 was a bank identity. The bank identity is becoming a well-established tool for identity proof in the Czech Republic. Nowadays, there are more than 70% of users using bank indentity when logging into online government services. In relation to this, another host of the event was CEO of Bankovní identita a.s., Marek Růžička, who talked about the first year development of the company and its vision.
An interesting perspective on the legislative context of electronic signatures not only from the point of view of the eIDAS regulation and the law on trust services for e-transactions was provided by Tomáš Pauch, attorney and CEO of elegal. Elegal specializes in IT law and technology. Ondřej Říha, CEO of Digital Solution and representative of the Czech platform DigiSign, covered the practical part in terms of technologies and processes of digital signing, including the legislative context and guarantees.

After the end of the lecture blocks, the participants had the opportunity to continue discussing, networking and having a good meal from the Twisted Fig Bistro at the Fitzgerald Hotel. We are glad that we managed to create a friendly and informal atmosphere and together with our partners prepare engaging lectures not only full of information, but also inspiration. We are delighted with the positive feedback from participants and partners saying that our intention was successful.

Digital Enterprise and Security 2022 was the first of a series of planned events under the digitalforum.cz platform. We are deliberately not calling this event nor the following events a conference or a workshop. Why? It is not our aim to present products and services or to promote specific companies or brands. The aim of these events is to offer a unique opportunity to share knowledge and experience. We believe that the future is not only in sharing knowledge, but also experience and its combination is vital for company growth. That is why we created the digitalforum.cz platform and organize events where we connect the commercial sphere with the academic sphere, technology with business and theory with practice. We have created a unique platform with friendly environment for mutual discussion between partners, experts, clients and those looking for inspiration or answers to questions.

You can look forward to other interesting events, for example to ones taking a closer look at data management and processing with BI (Business Intelligence) tools. These events will as well provide managers essential information and insights needed for successful strategic planning and decision making in companies.